Traceability has become one of a requirement for us to export our product to some countries especially to European Union. Yet, we aware that traceability is an important thing for our customers all over the globe, therefore we implement the art of tracing ALIS Program. We always put forward our traceability because our profile unit of insect protein we produced is using a non-waste which is single feed palm kernel meal. Besides, we also managed to implement ISO 22000 and HACCP standard, that is the standard for other companies in the same industry.
HACCP
Hazard Analysis Critical Control Points (HACCP) is an internationally recognized method of identifying and managing food safety related risk and, when central to an active food safety program, can provide your customers, the public, and regulatory agencies assurance that a food safety program is well managed.
HACCP is a management system in which food safety is addressed through the analysis and control of biological, chemical, and physical hazards from raw material production, procurement and handling, to manufacturing, distribution and consumption of the finished product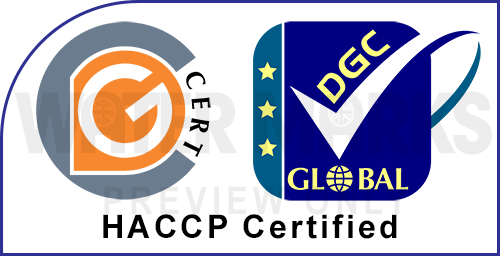 ISO 22000:2018
ISO 22000:2018 is an internationally recognized standard that combines the ISO9001 approach to food safety management and HACCP for the assurance of food safety at all levels. The standard maps out how an organization can demonstrate its ability to control safety hazards to ensure that food is safe.
ISO 22000 can be used by any organization within the food supply chain. The standard integrates the principles of a Hazard Analysis and Critical Control Point (HACCP) system developed by the Codex Alimentarius Commission. By means of auditable requirements, it combines the HACCP plan with prerequisite programmed as well as other food safety
Nomor Kontrol Veteriner (NKV)/ Veterinary Controlled Number
Veterinary Control Certificate of Animal-Originated Food Business Unit, hereinafter referred to as Veterinary Control Number (NKV) is a certificate as legal written evidence that hygiene-sanitation requirements have been fulfilled as a basic feasibility of guaranteeing food safety of animal origin in a food business unit of animal origin.

FDA Registration
The United States Food and Drug Administration (FDA or USFDA) is a federal agency of the Department of Health and Human Services. The FDA is responsible for protecting and promoting public health through the control and supervision of food safety, tobacco products, dietary supplements, prescription, and over-the-counter pharmaceutical drugs (medications), vaccines, biopharmaceuticals, blood transfusions, medical devices, electromagnetic radiation emitting devices (ERED), cosmetics, animal foods & feed and veterinary products